Customized Greenkote anticorrosion coating systems specifically for you

Get your own licensed Greenkote coating equipment – configured to your needs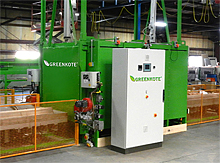 Depending on your own particular anticorrosion coating requirements, production volumes and other factors, you may wish to install a licensed Greenkote coating system in your own facility. Or if you are a commercial coating services provider you may want to add Greenkote coating to your company's repertoire. Either way, we can provide you with the turnkey systems and all the start-to-finish support you need to be successful.
Advantages of in-house Greenkote coating systems
Licensed in-house Greenkote coating capabilities can give the user a much greater level of control over their manufacturing process, including timing, logistics, scheduling and more. It can eliminate the the time and expense of packing and shipping parts to and from an outside coating location – and if the coating location is distant, those savings can be significant.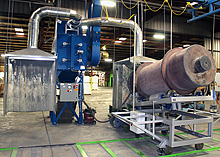 Often, having your own Greenkote system can simplify the handling and movement of your parts and streamline your process flow and throughput. In addition, in-house coating may be able to give you closer, real-time visibility and more complete quality control over every processing step. If you wish, direct control can even enable you to vary coating processes to the specific requirements of different parts and products.
A range of systems for a range of needs
Each licensed Greenkote system we provide is a custom solution because each user's situation and needs are unique. If your requirements are very basic and your volumes are low, perhaps you may only need a small, manual equipment configuration. If your manufacturing environment would benefit from higher throughput or additional automation, that can be easily provided. Everything hinges on your application needs.
Custom Greenkote systems can be configured for coating iron-based parts up to 2m in length, up to 10kg in weight and for batch sizes up to 4,000kg, including stampings, castings, forgings, sintered powder metals and more.  If your needs fall outside these ranges, please check with us, as we may be able to develop a system that will work for you.
The elements of Greenkote coating systems
For Pretreatment: Batch or linear grit-blasting equipment to remove scale and rust; batch or linear water-based washing equipment to remove oil and lubricants.
For Coating: Furnaces sized for batches of 50kg to 4,000kg.
For Cleaning, Rinsing, Passivation, Top-coating: Batch or linear systems to wash parts and apply a range of sealers and topcoats if required.
Fully turnkey systems from the Greenkote experts
No one understands how to optimize Greenkote processing better than the Greenkote Team. That's why we work so closely with each of our licensed equipment customers – literally from start to finish. We coordinate closely with you from the outset to learn exactly what you're looking for and what would best address the anticorrosion needs for your specific products and parts. That includes the sizes of your parts, volumes of your products and all the other relevant factors.
With that information we will develop a specific equipment configuration that addresses your specific needs – including pre- and post-processing if those are required. And once you approve that plan we will handle all the interactions with all the suppliers of parts, sub-assemblies and equipment to build your system. We will also assist with your equipment installation so that everything is working properly, and we'll even help train your operators to get you off to a perfect start.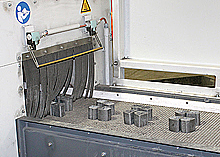 Bottom line, it is a totally turnkey process aimed at optimizing your licensed Greenkote coating capability – so that you don't have to worry about a thing!
Let us create a system for you…
Let's discuss the possibilities of adding Greenkote's high-performance anticorrosion coatings to your in-house operations. We'll be happy to advise you on the various licensee equipment options that might be right for you. To learn more, click here…