Greenkote —
an optimum base
for duplex coatings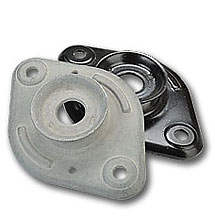 Duplex metal coatings
For certain applications, to enhance or modify coating performance or to change appearance or color, it may be useful to add an additional coating on top of Greenkote®. These multi-layer coatings are known as duplex systems or duplex metal coatings, and Greenkote's strong surface adhesion characteristics make it an ideal base layer for them.
A range of coating combinations
The unique microroughness of the Greenkote surface enables optimum adhesion for a broad range of topcoats. Unlike other anti-corrosion coatings such as galvanizing, Greenkote requires no primer or special surface finishing prior to adding a topcoat. No phosphate pretreatment or abrasive cleaning is needed on non-heat treated metal substrates. And Greenkote provides excellent under-bond corrosion protection and undercut resistance. Hence, the net corrosion resistance of the duplex metal coatings will be significantly enhanced.
Many automotive applications add a topcoat over the Greenkote thermal diffusion process. One frequently used topcoat is a black electrocoat or e-coat, (also known as "KTL" in Europe). Greenkote PM-10 coating paired with e-coat offers several synergies and is a strong replacement for zinc-nickel plating with e-coat. Greenkote duplex metal coatings protect many types of automobile lock parts including base plates, strikers, and latches.