Greenkote —
a company dedicated
to more advanced and
eco-friendly coatings
From its earliest days, Greenkote set out to develop protective metal coatings that were high-performing, cost-effective and ecologically responsible — and to make those advanced coatings available to industries worldwide. Originally founded in 1999 by two leading European metallurgical scientists, Greenkote PLC was registered as a public limited company in 2005. After acquiring one of the largest custom coating companies in North America, Greenkote expanded its market presence and business infrastructure to the United States and Mexico.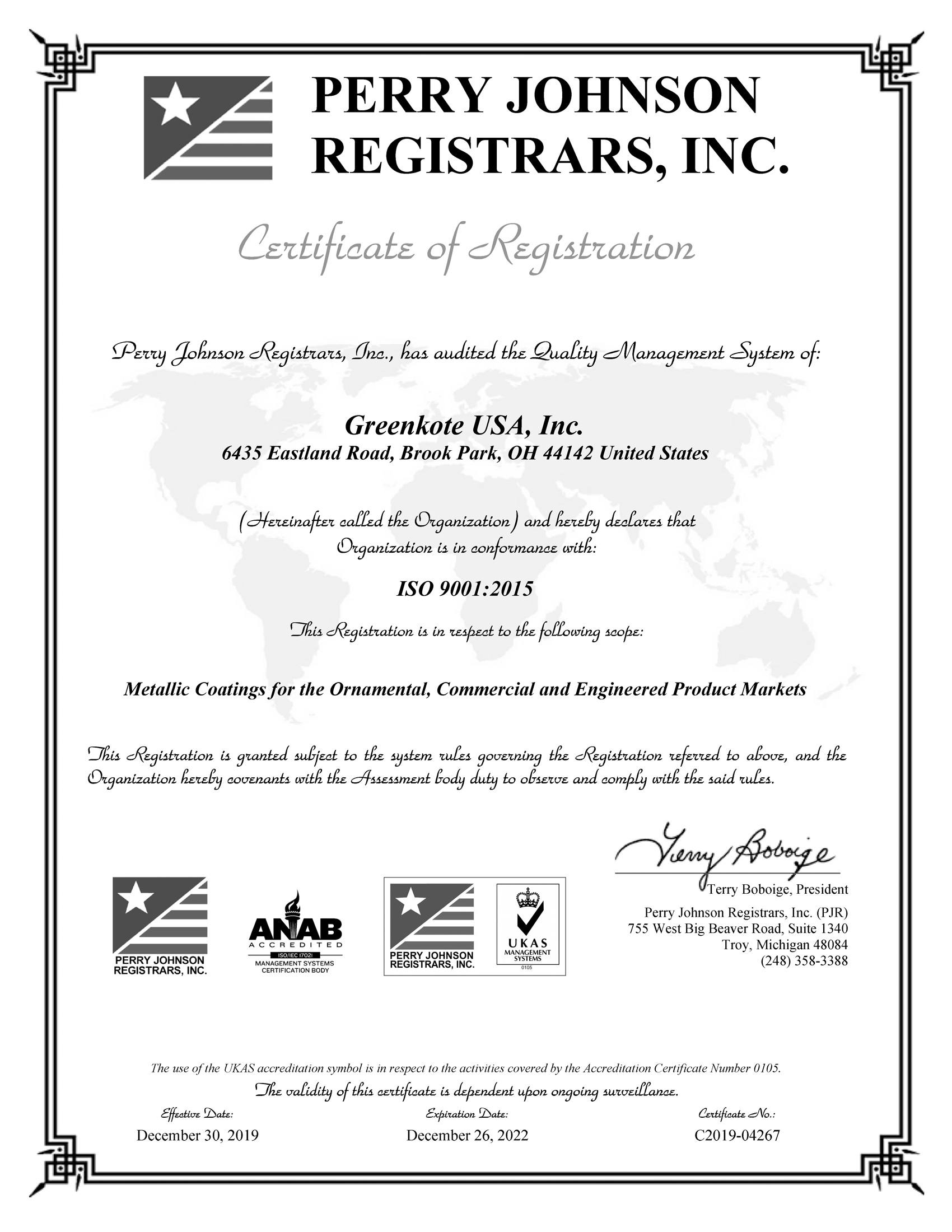 Now headquartered in Brook Park, Ohio, (near Cleveland) Greenkote PLC has become one of the industry's most innovative coating technology companies. The Brook Park facility is also in full conformance with ISO 9001:2015. The company develops proprietary metal alloy powders and process technologies which are used on our specialized equipment to coat finished metal parts. Greenkote has focused much of its attention on corrosion protection and has significant patents in that area. The company's ongoing investment in research and development enables it to maintain its technological advantage and provide customers with increasingly efficient, cost-effective and environmentally sound solutions to their coating needs.
Greenkote PLC facilities, joint ventures and licensees around the world
The company serves customers through the development of its advanced technologies and by providing its coatings through globally dispersed Greenkote coating centers and licensees. Greenkote plants and licensees are strategically located around the globe, in North America, South America, Europe, the Middle East, Asia and Africa.
Increasingly, coating companies are evaluating Greenkote technology to complement their own products. Continued market penetration has increased the development of Greenkote joint ventures and licensing to coating suppliers, especially in automotive, construction and mining industries.
These joint ventures and licensee relationships are a critical part of distributing our technology to the global market. So, we continually seek new opportunities to establish additional relationships as we expand. If you are an established coating provider or OEM and would like to explore the possibilities of adding Greenkote capabilities, please let us know. We've provided an inquiry form expressly for that purpose!
Greenkote PLC is registered as a United Kingdom company. For all investor information, please click here.